Tomato paste, pomegranate concentrate
Siab Company
Pomegranate "Siyab", called Kuhdasht to the taste of almonds
Tasnim News Agency: "Siab" region of Kuhdasht has the best pomegranate produced in the country and this product is offered in world markets under other names.

According to Tasnim news agency from Kuhdasht, Kuhdasht city in Lorestan province is one of the pomegranate-prone areas of the country due to favorable weather conditions and good soil, and "Siab" area, which is located in the southwest of this city and at a distance of 60 km, is the best pomegranate production in Produces the country level.

"Siab" of Koohdasht cultivates one of the best pomegranates in Iran in terms of quality and quality, pomegranates that are similar to those found in fewer pomegranates in the country.

There are 1,800 hectares of concentrated orchards in this area, and more than 34,000 tons of pomegranates are grown annually in this area.


"Siab" pomegranate of Kuhdasht with other names is being introduced in the world markets

Among the pomegranates produced in Tang-e-Siab, Yaghoot-e-Siab, Omid-e-Siab and Dardaneh-e-Siab cultivars can be named as the superior cultivars that have high export potential as an example.

Kuhdasht ruby, which is a completely organic product, is used in dozens of countries around the world. But unfortunately, this pomegranate goes to world markets under the names of other provinces and is not the name of Lorestan.

Lack of conversion and complementary industries for pomegranate products, poor packaging, auction brokers on the body of Lorestan colorful pomegranate, lack of brand and cheap sales of this product, are just some of the problems that Lorestan pomegranate suffers.

‌Helping to solve the problems of pomegranate orchards in Kuhdasht city, as the largest pomegranate orchard in Lorestan, is an issue that in addition to helping the livelihood of gardeners in the region, paves the way for solving one of the most serious problems facing the production of this export product.

The auction wood has caused financial problems for gardeners

Adineh Far, one of the gardeners in this area, said in an interview with Tasnim: "The problem of dehydration is rampant in this area in the summer, and even this problem sometimes causes conflicts between gardeners, and the necessary support is not provided in this regard."

He added: "Unfortunately, there is no specific market for selling products, and in fact, most buyers are traveling, and even small factory pomegranates, which are third-class, are not picked because it is not really cheap for us and travelers buy from us at half price."

Jafari, another gardener in Kuhdasht, told Tasnim: "We have poor facilities in terms of harvesting and packaging, and since there is no factory for packaging, we have to go to other cities or use second-hand containers."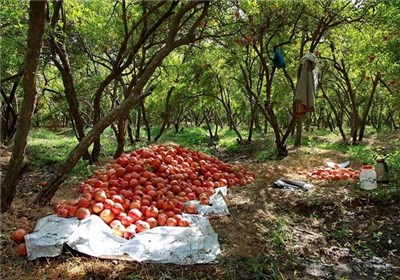 He added: "Agricultural Jihad does not provide any information and services to gardeners and the officials do not coordinate and due to shortages, we can not export our products."

50% of Kuhdasht pomegranate products are lost due to cold

The gardener of Kuhdasht stated: in fact, 50% of the crops are destroyed by the cold and in terms of water, a fair distribution has not been done and if the officials coordinate and form a cooperative for packaging, many problems of gardeners will be solved.

In an interview with Tasnim, Fereydoni, the director of the orchards of Koohdasht, said in an interview with Tasnim: "One of the problems of the pomegranate orchards in this city is the lack of water, so that many pomegranate orchards have dried up."

He added: "Another problem of these orchards is the" throat worm "which damages the crops."

The director of the orchards of Kuhdasht city stated: third and fourth grade pomegranate products cannot be eaten fresh and should be turned into pomegranate paste. These products are mostly exported to West Azerbaijan and cities with food industries to produce pomegranate paste.

Fereyduni stated: "Unfortunately, the necessary cooperation is not done in relation to exports."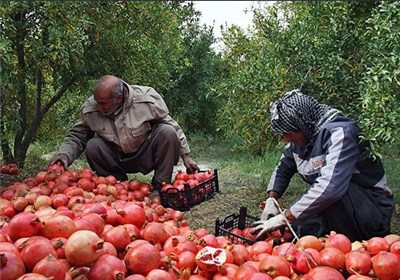 He said: "Kuhdasht pomegranate, due to its thick skin, has the capacity to be stored in the cold storage and can be exported. In this regard, investors were invited to cooperate, and if they attend, our problem will be solved to some extent."

Mohammad Karam Mohammadi, the governor of Kuhdasht, in an interview with Tasnim reporter regarding the problems of "Siab" pomegranate orchard in Kuhdasht, said: "There are more than 2,300 hectares of pomegranate, olive and fig orchards in Kuhdasht, which is close to 1,800 hectares of pomegranate orchards." And Siab pomegranate is one of the largest pomegranates in the country.

"Unfortunately, no serious work has been done to create a foreign brand in the name of the city and to ensure the rights of the hard-working producer, and a factory has been set up in the area below Tang-e Siab to process the product that can concentrate third-degree pomegranates into concentrate," he said. Unfortunately, it is closed due to lack of working capital and financial capacity.

Mohammadi said: "With the arrival of rainy days, a large part of farmers 'pomegranates are out of reach for useful use and are exported to neighboring western provinces such as West and East Azerbaijan at a very low price that does not even provide workers' wages."

"Siab" pomegranate of Kuhdasht with the brand of the city should go to world markets

The governor of Kuhdasht stated: a limited part of these pomegranates, which are premature or early pomegranates, are exported under the Saveh brand. Therefore, follow-ups have been done to activate this factory and other factories through the Jihad Agricultural Organization to export pomegranates and Creating a market for a good product of the province to other provinces or global markets with the brand of this city.

Behrouz Baharvand, horticulture director of Lorestan Agricultural Jihad Organization, said in an interview with Tasnim: Lorestan province is the seventh in the country in pomegranate production and Kuhdasht city has special conditions for pomegranates and 73% of the province's pomegranates in
.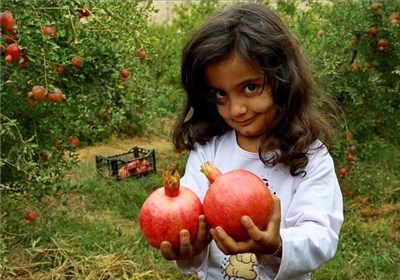 صنایع غذایی سیاب واقع در انارستان استان لرستان تولید کننده رب گئجه فرنگی و کنسانتره انار با استفاده از ماشین آلات روز اروپا به صورت اسپتیک
ما مفتخریم با استفاده از نیروهای متخصص و به روز ترین تکنولوژی محصولی با کیفیت و درجه یک صادراتی در اختیار شما عزیزان قرار دهیم
رب گوجه
کنسانتره انار
محصولات
تماس با ما
درباره ما
آدرس : لرستان ، کوهدشت ، روستای تنگ سیاب ، کارخانه رب سیاب